Steel connection design is a laborious exercise. Doing things by hand could quickly become very tedious or even impractical considering multitude of checks that need to be carried out to comply with code requirements.
With the general availability of Microsoft Excel, most of these checks can be automated. AISC 360, BS 5950 and Eurocode 3 (EN 1993) steel codes provide extensive formulas that can be implemented in a spreadsheet. Many design companies would typically develop their own in-house spreadsheets to perform simple steel connection design for common applications. As the connections become more complex, the designer turns to a dedicated steel connection software package.
DESIGN SOFTWARE FOR STANDARD STEEL CONNECTIONS
PROKON Structural Analysis and Design
For simple base plate, bolt check, or cleat plate design, PROKON offers basic connection design within its steel design module.

If the connection type you are designing is covered by these modules, PROKON is a good choice especially if you already have the license for the full suite.
Bentley Limcon
Limcon is part of the Bentley Systems. The software is capable of designing several types of connections to different international standards. A glimpse of Limcon's dashboard shows all the predefined topologies you can choose from.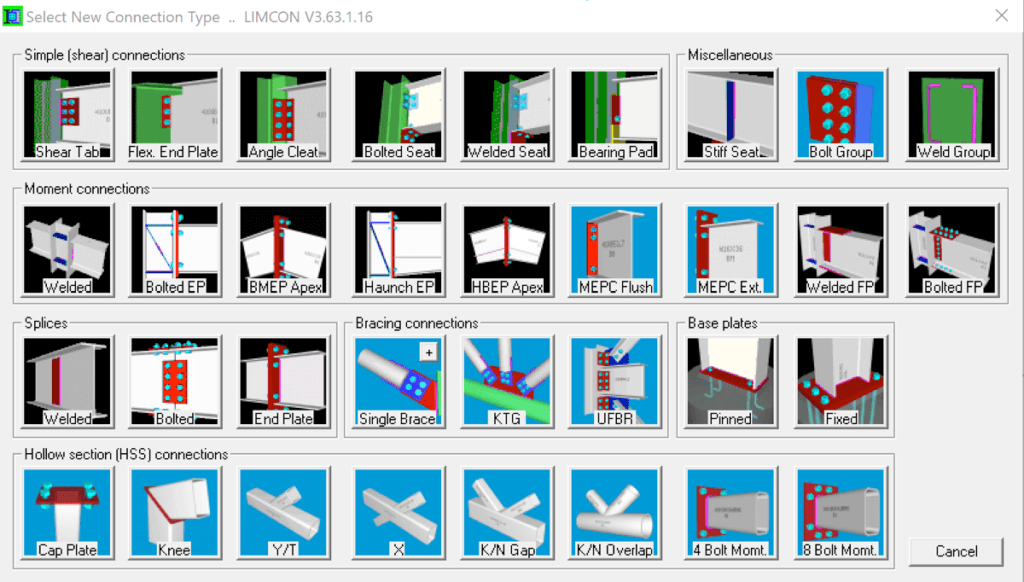 Limcon is easy to use and has a good reputation among building officials and third-party design reviewers (perhaps the association with Bentley carriers some weight). It performs several checks including the validity of the geometrical configuration of the connection. For example, it warns the user if the bolt spacing is too close or if the plate edge distance is insufficient.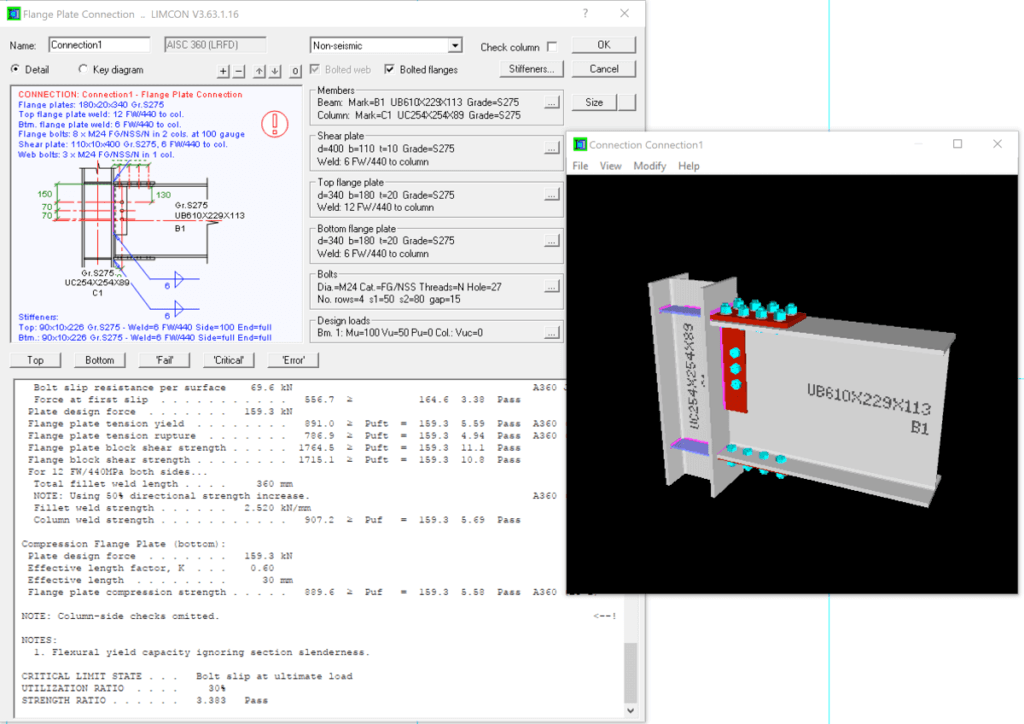 Limcon strictly follows its built-in geometric configuration which could be inflexible if your connection is slightly different. The software will refuse to proceed with the design once it detects user configuration outside its predefined scope. In such cases, you may be forced to make some conservative engineering judgment and attempt to modify the input model for Limcon to accept, then interpret the output for your final connection design.
Bentley also offers RAM Connection for steel connection design. It has similar features as Limcon but allows more seamless integration with RAM Structural System.
THE BEST STEEL CONNECTION DESIGN SOFTWARE
PROKON, Limcon and RAM Connection can only design connections which are predefined in their own libraries. Oftentimes you would encounter a non-regular connection that is not suitable for these software. For such cases, you might create a finite element model in a FEA tool like SAP2000 then assess the stresses against limits. This approach is not only time-consuming but does not provide a complete solution due to difficulty in modelling welds, anchors, or the non-linear behaviour of the materials or contact. Fortunately, a dedicated finite element connection design tool is available in the market.
IDEA StatiCa
IDEA StatiCa is a steel connection design software that allows structural engineers to verify almost any type of connection geometry. It can design simple to very complex connections such as the one shown below.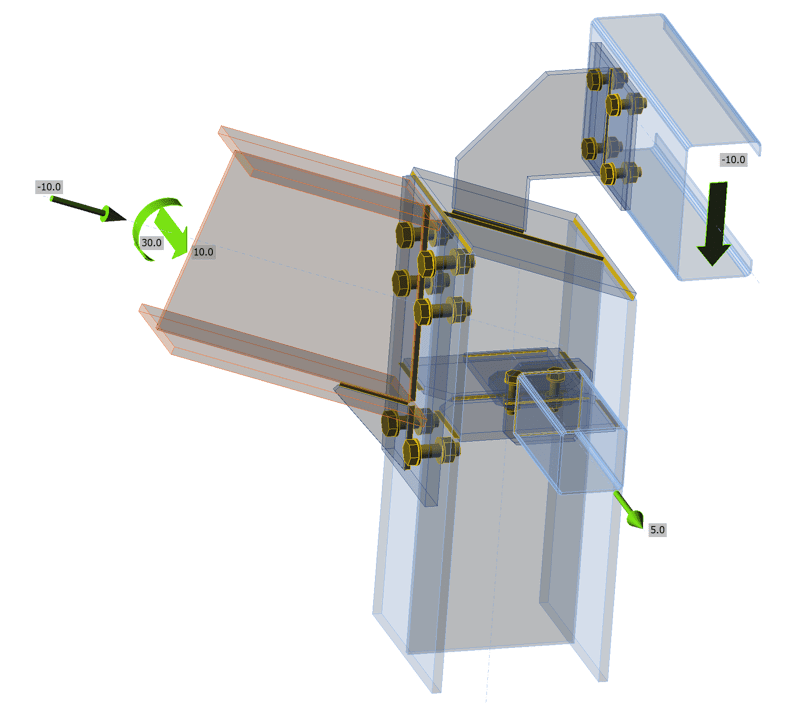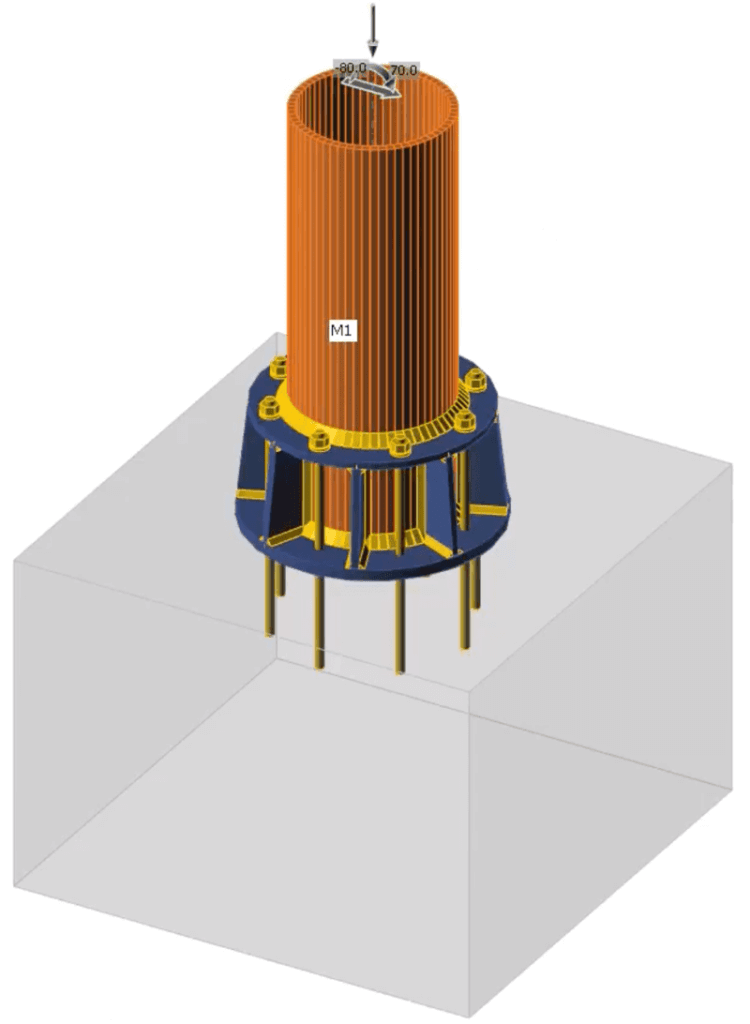 The software gives you the freedom to model almost any connection topology. When starting a connection design, you may choose from one of the available templates or start with a blank canvas then build your components from it.

IDEA StatiCa can perform all sorts of design checks such as verification of overall utilization (plates, bolts, weld), stress checks, buckling analysis, and stiffness analysis to determine whether your connection is fixed, semi-rigid, or pinned.
The stiffness analysis is significant if you want to confirm if the joint fixity assumption you've used in your overall structural analysis is still compatible with the actual stiffness of the connection. If not, you may need to adjust the global analysis to suit the actual joint stiffness then review the member design after redistribution.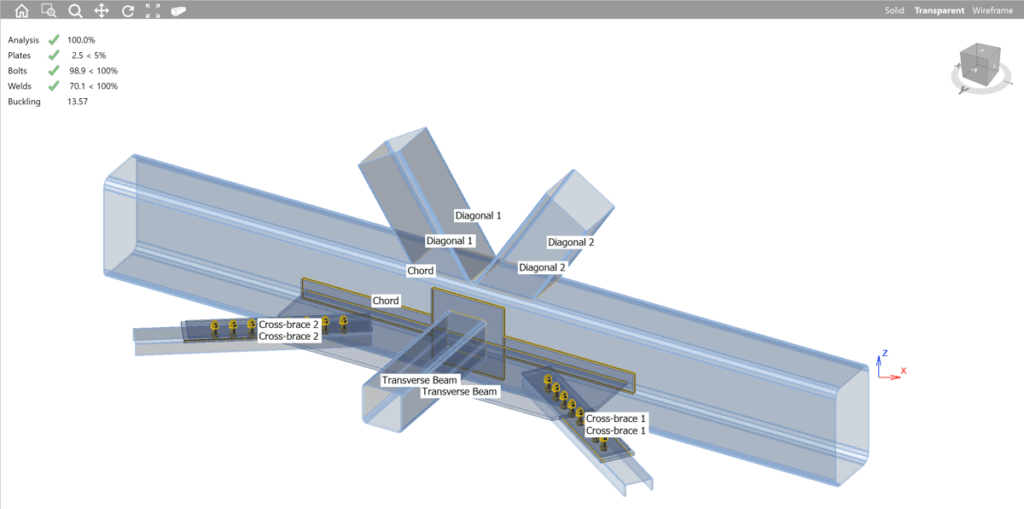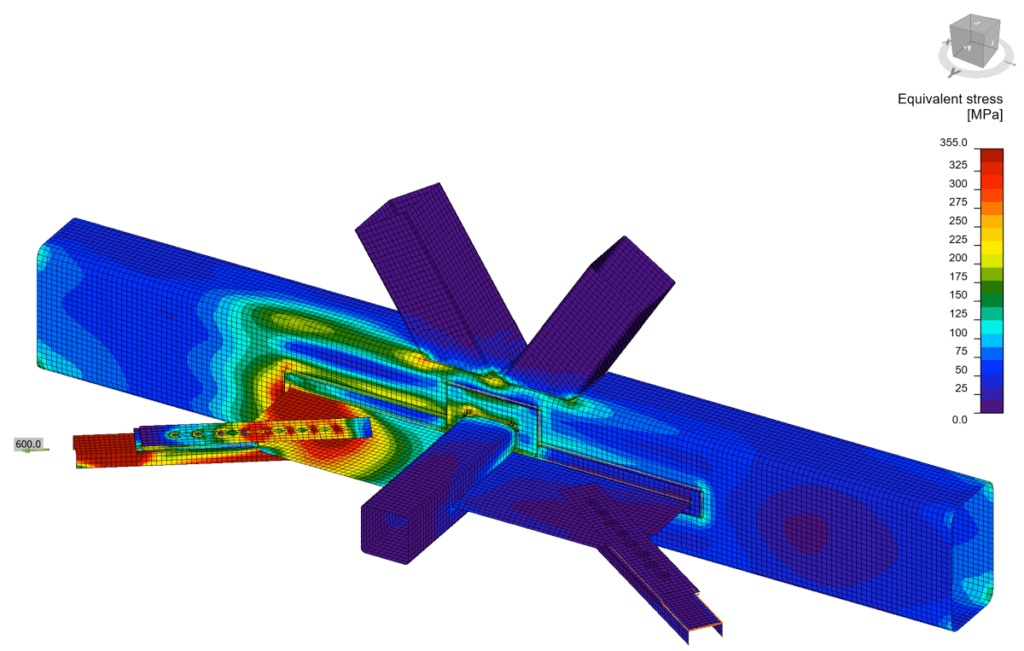 One of the handy features of the software is the ability to import the geometry and loadings of a joint from the most popular global analysis tools. If your overall structure was designed using ETABS, STAAD, SAP2000, Robot, or Midas (and many others), you can automatically import the joint data to Idea StatiCa then apply the joint operations from there.
IDEA StatiCa provides tons of documentation on their website, helpful for those who want to self-train. They discuss theoretical background and give plenty of examples of connections which are downloadable. They also hold regular webinars presenting real-world connections sent by their users across the world. The recordings are then uploaded to YouTube for on-demand viewing.
So far there is no equivalent software in the market that we're aware of which offers the same innovation and features like Idea StatiCa. An engineer will have more confidence in designing complicated steel connections safely without guesswork or resorting to over-simplification due to a software's limitations. Thus calling it the best steel connection design software today is warranted.
Connections with Post-Fixed Anchors
If your steel connection has post-fixed anchors and want to specify the HILTI product line, you may consider the powerful cloud-based PROFIS Engineering Suite. It utilises the same component-based finite element method used by Idea StatiCa. HILTI offers subscription for online connection design but don't be surprised if these two companies are in collaboration.